About Us
A History of Kumar Gallery and A Tribute to Virendra Kumar on his Birth Anniversary
Mr. Virendra Kumar Jain of Kumar Gallery is the pioneer in promoting contemporary Indian art in our country as well as abroad. Most of the top ranking artists of today owe their beginnings to him. It was due to relentless efforts Kumar made in creating awareness of modern vocabulary of the mode of painting that has made it possible for most of us to find a niche in the history of world art. What our society has gained through such developments is too obvious to mention. - Satish Gujral
This essay pays tribute to a champion and great supporter of Modern Indian Art, Shri Virendra Kumar, founder of Kumar Gallery. With the dizzying ascent and soaring value of the market for Modern Indian Art in recent years, it is all too easy for connoisseurs to defer to price as a proxy for aesthetic value. Yet Modern was once Contemporary, and there was a time when the evolution of style was the result of a hard-won struggle against the prevailing commercial trends. It was precisely at those crossroads in the history of India that Virendra acted as the principal tastemaker and visionary patron for serious, avant-garde artistic expression.
Virendra Kumar was born on 26 January 1933 to an illustrious and philanthropic Jain family. For generations the family had provided patronage to musicians, sculptors, and painters, architects and had commissioned numerous temples. Most notable amongst direct patrilineal ancestors of the family were Raja Harsukh Rai (1740 – 1807) and his great grandfather Deep Chand Sah, who respectively built the Naya Mandir and Lal Mandir in Delhi, and the latter of whom was the treasurer for the Mughal Emperor Shah Jahan. Oral histories of the family trace the lineage back further to influential Jain traders during the Tomara dynasty (8th – 12th centuries), principally located in the area where the Qutb Minar is now located.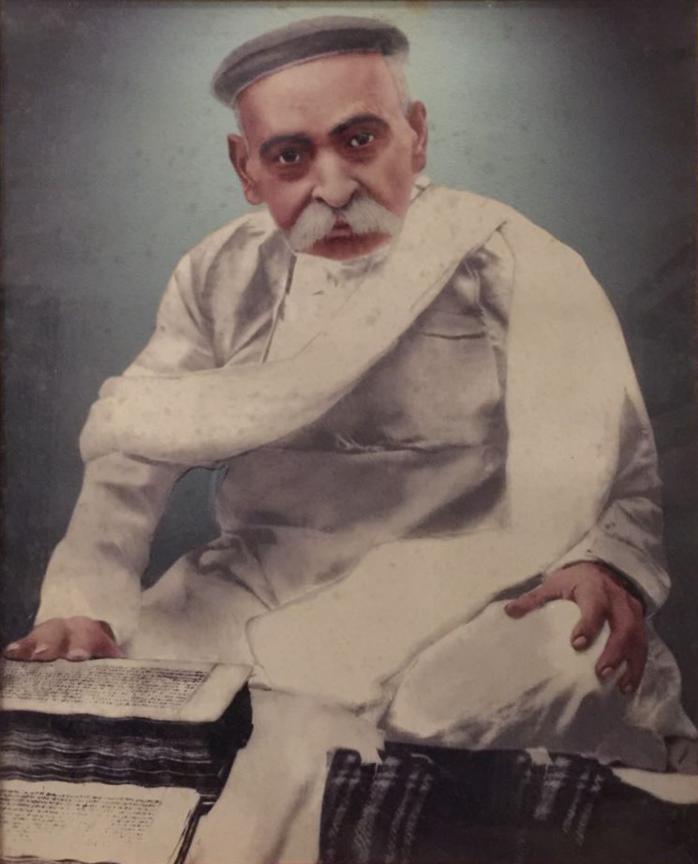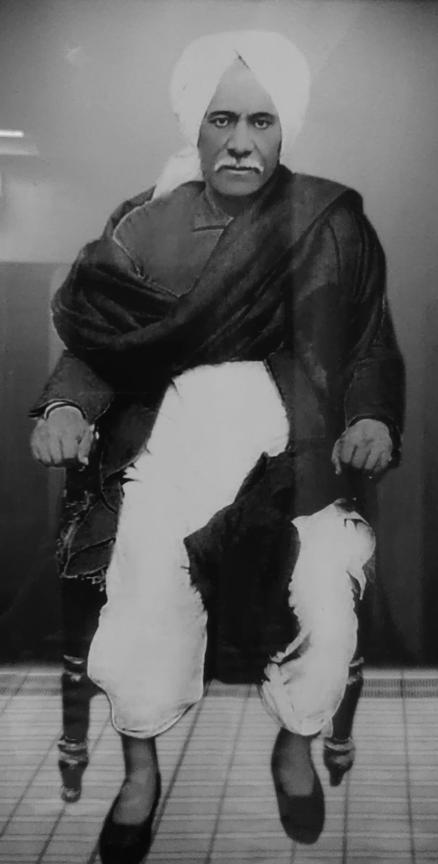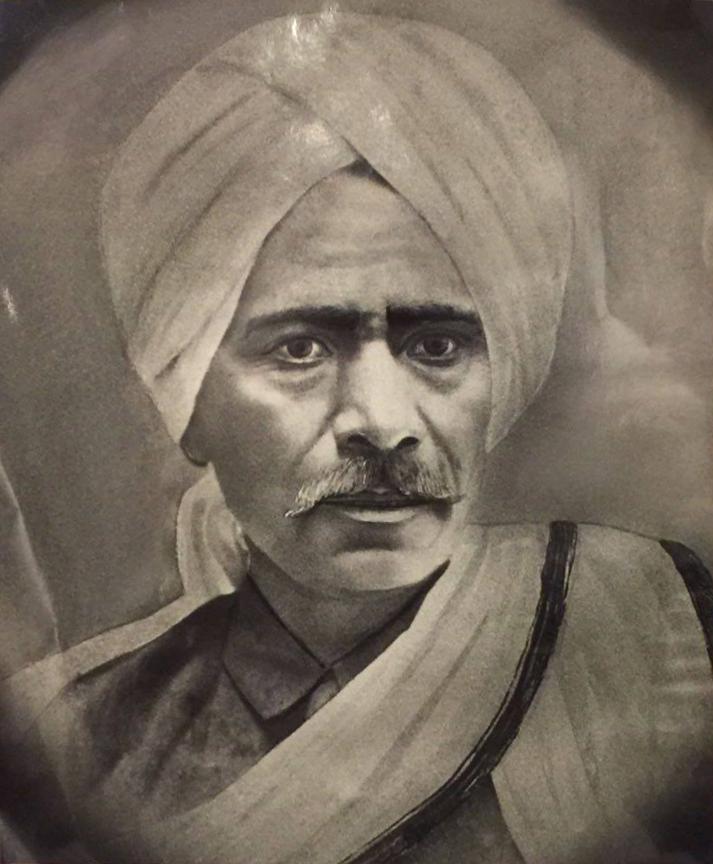 Virendra was the eldest of seven sons (after him, Ravi, Pradeep, Navin, Praveen, Vinit, Sunit) and one daughter (Kamal) of Srimati Prakashwati Jain and Shri Kanshi Ram Jain (1914 – 1998). By profession, Late Shri Kanshi Ram Jain worked with his grandfather as a banker and commodities trader. His success in the family business was not sufficient insulation from the zeitgeist of the decade, for Kanshi Ram. Perhaps appealing to his sensibilities as a Jain, he joined Gandhi's non-violent independence movement in the 1940s. He was jailed no less than three times by the British for peaceful protest by the time India finally negotiated its independence.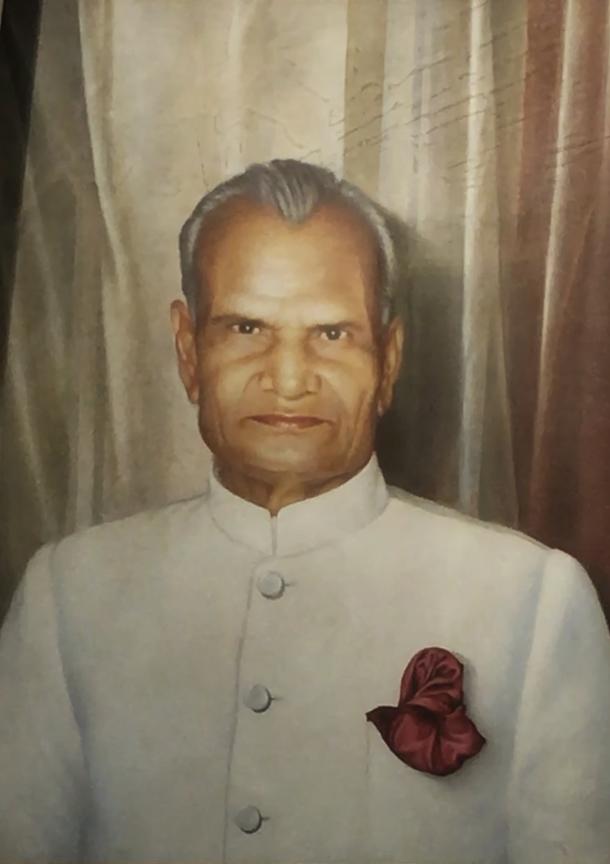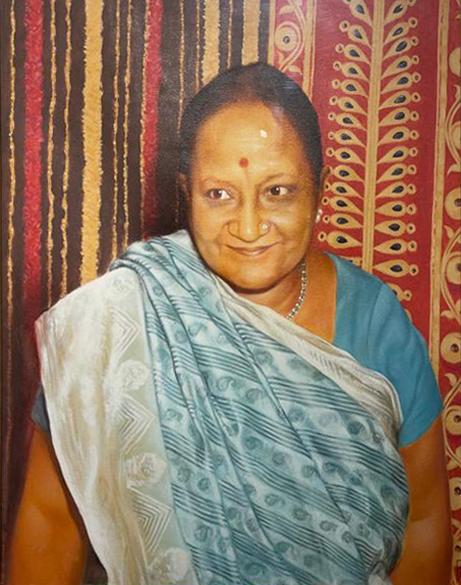 Witnessing his father's actions had a profound impact on the young and impressionable Virendra Kumar. Watching the Indian flag being raised over the Red Fort in Delhi on August 15th 1947 was a memory that Virendra cherished for the entirety of his life. Yet his joy was short-lived, tempered by the unrelenting and horrific tragedies of partition. Virendra's natural reaction was to act. He immediately volunteered in the rehabilitation of refugees from Pakistan, joined the National Cadet Corps, and contributed to social welfare programs in the villages of Haryana for education, family planning and the eradication of leprosy.
Soon, Virendra found himself unsatisfied with the scope and scale of his impact as a social worker. He felt that he had to focus his life to a mission that only he – and no other – could achieve. His first idea was to advance the material prosperity of the nation through scientific and technological innovation. Again decisively, he enrolled in college, studying physics and chemistry. The coursework suited him immensely, given an inborn fascination with the mysteries of the cosmos. Yet the universe had other plan for Virendra Kumar. In 1953, Virendra Kumar happened to walk into the studio of the artist Krishna Shamarao Kulkarni (1914 – 1996). As they sat down for tea, the wheels of history of art began weaving for itself a new future. The fateful meeting was Virendra's clarion call to action on the greater stage: he clearly saw a once in a generation opportunity to the history and culture of India, as well as the path to take to manifest that reality.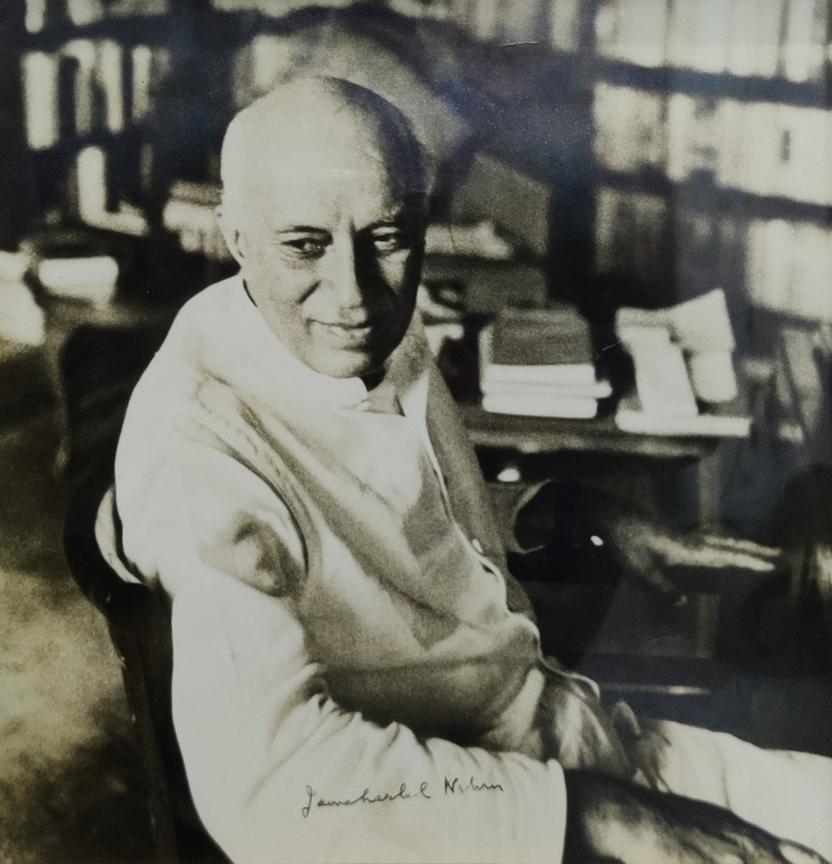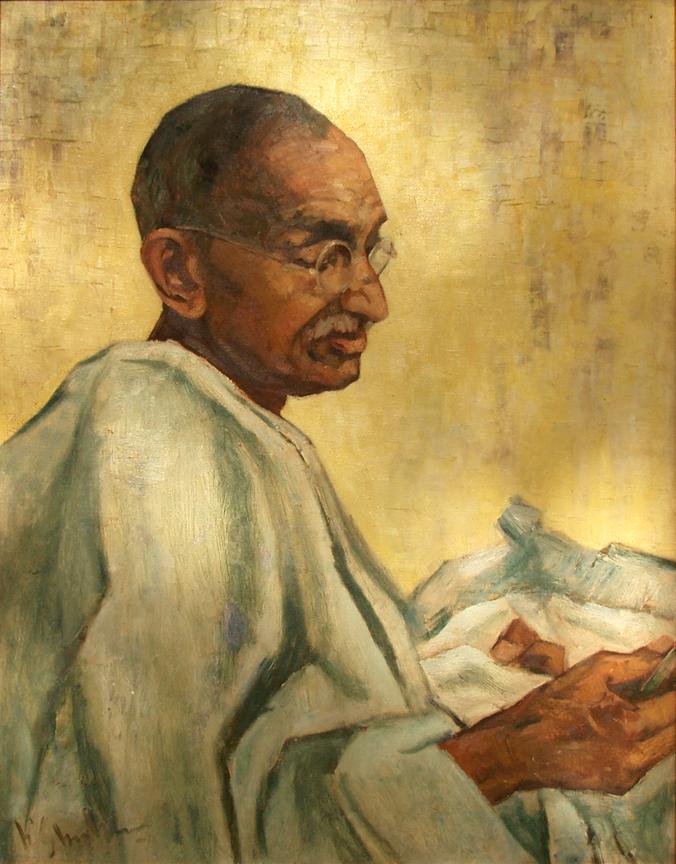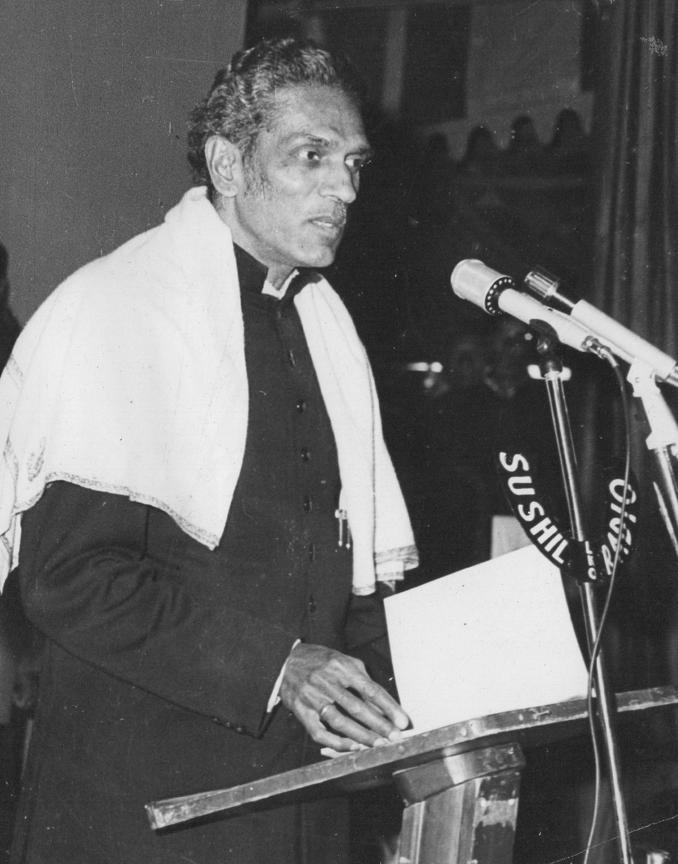 At the time, Kulkarni was one of India's leading contemporary artists. In addition to his achievements as an artist, he was a Founding Member of the Delhi Silpi Chakra artists' society, served on the governing board of All India Fine Arts and Crafts Society (AIFACS) from 1948-1949, was a founding organizer of the Triveni Kala Sangam in 1950, and was a professor of art at Delhi Polytechnic University. The story Kulkarni narrated to Virendra was not of the fruits of his impressive labors, but of the flaws that rendered them futile where they really mattered. Institutions simply were not equipped to provide contemporary artists what they really needed to dedicate themselves to their work: substantive financial security. Kulkarni had traveled to United States and Europe for his one-man shows in 1950-51, and during that time, he learned it was private commercial galleries that served as patrons and tastemakers in the Western world. Without a leading tastemaker and patron, contemporary art in India was bound to stagnate in a stillborn status quo between the Classical Bengal School and Imitation of Western Modernism.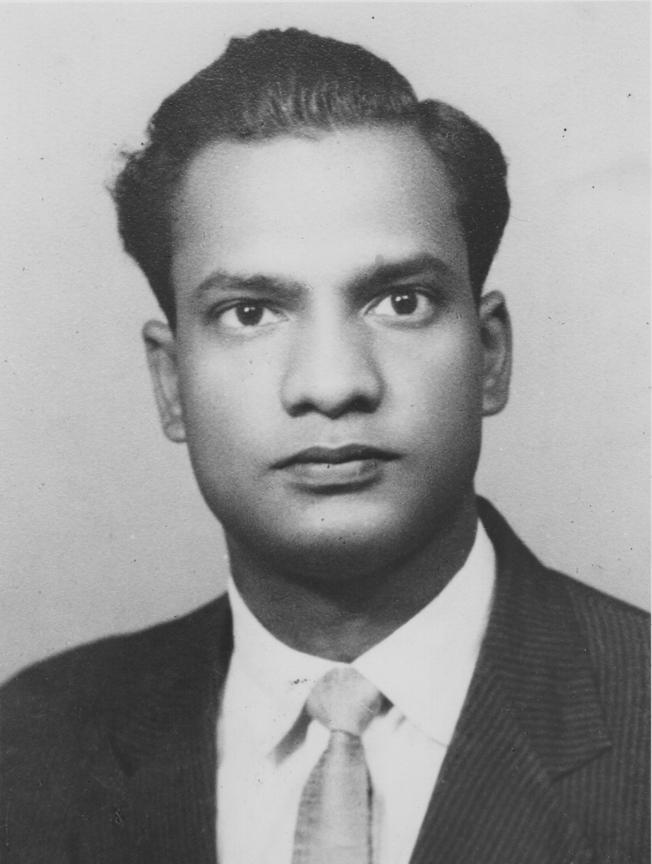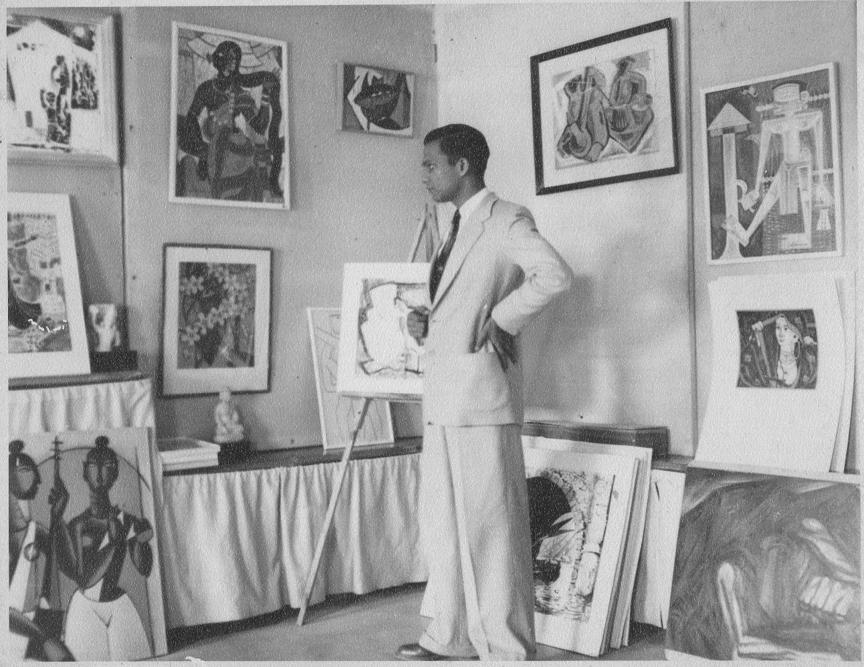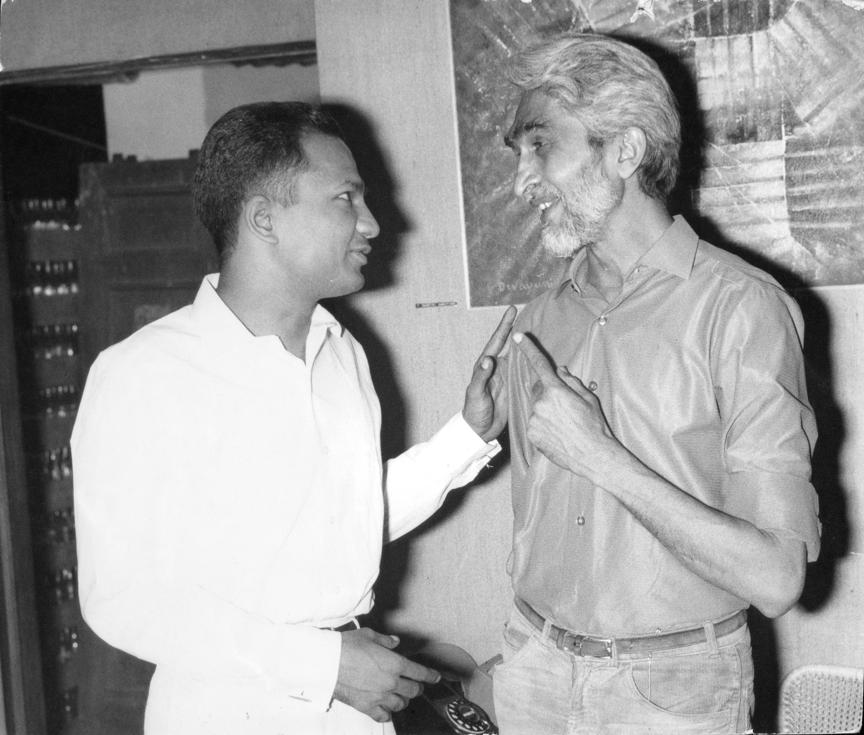 The next year, in October of 1955, at age 22, Virendra founded Kumar Gallery, located initially at 11E Connaught Place, New Delhi. Kumar Gallery was founded with the mission of ushering in a new era of Indian art. Virendra trusted that he was gifted – perhaps by his family heritage – with an extraordinarily discerning eye and superlative taste in art, that would enable him to pick artists with significant growth potential. All that would then remain was providing those talented artists the unfettered support they needed to abandon commercial considerations, focus on the evolution of their aesthetic vision, and innovate new forms of visual expression. The artist Ram Kumar explains, "Kumar assured them [the artists] the rare assistance of financial security,". The sentiment was elaborated further by the artist Krishen Khanna, "His assistance extended well beyond the financial. It was a total commitment to artists and their vocation."
Virendra's strategy was to provide contracts to artists for monthly stipends in exchange for works of art. His ideal was to aggregate enough works to hold a single one-man show every year, showcasing the new themes and developments in the artist's oeuvre. Virendra encouraged artists to produce large and serious subjects in oils on canvas, often by providing funds for materials in addition to stipends. On the other end of the spectrum, he also gave artists the freedom to test waters with exhibitions of drawings and sketches when experimenting with new styles or subjects.
Exhibitions in those days were intense 1-2 week-long spotlights on the artist's latest developments. They began with an evening cocktail party, predominantly attended by members of international diplomatic and business communities who looked forward to these openings as a rare resemblance of their cultural life back home. For the artists, these parties were important opportunities for receiving feedback from high level connoisseurs of Western modernism, learning of the latest trends in global art, and developing their own private network of lifelong patrons.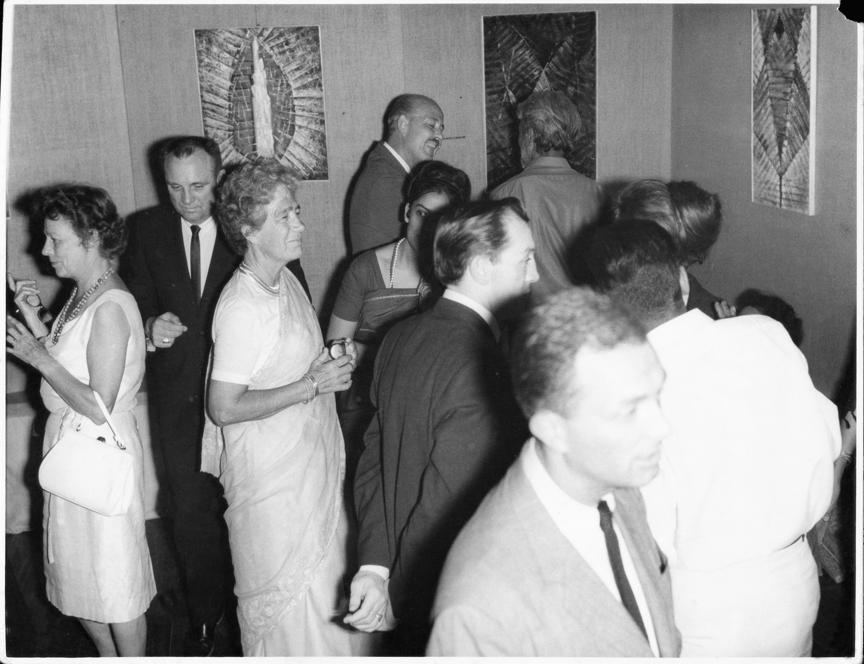 Thus, one can imagine that being an artist at Kumar Gallery was rewarding and demanding in equal measures. The strings associated with his financial support was that artists have the courage to rise above commercial trends and pre-existing preferences, and the strength of spirit to be competitive with their global contemporaries. A careful study (detailing which is beyond the scope of this biography) across the collective oeuvres of the artists that the gallery patronized confirms that association with Kumar Gallery often resulted in, or directly preceded, stylistic evolution and breakthrough.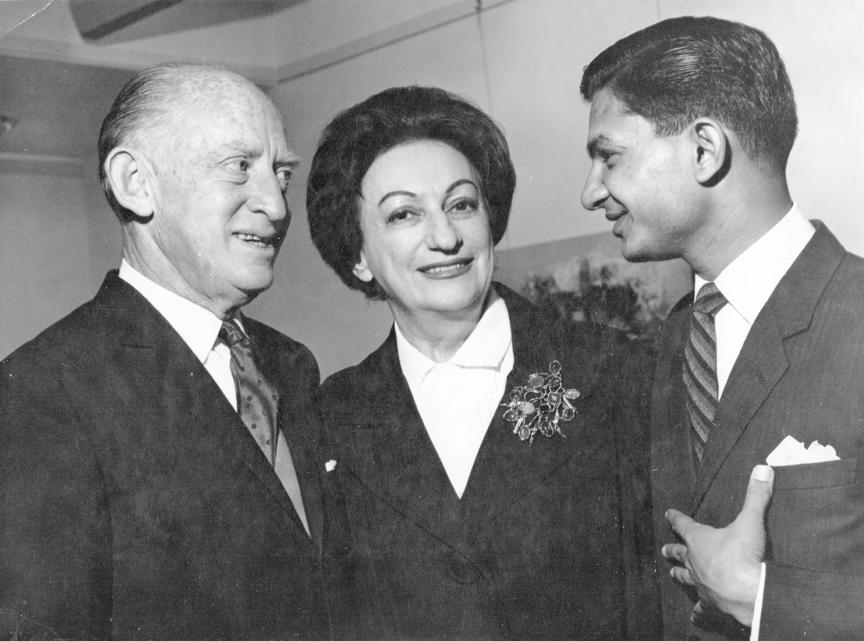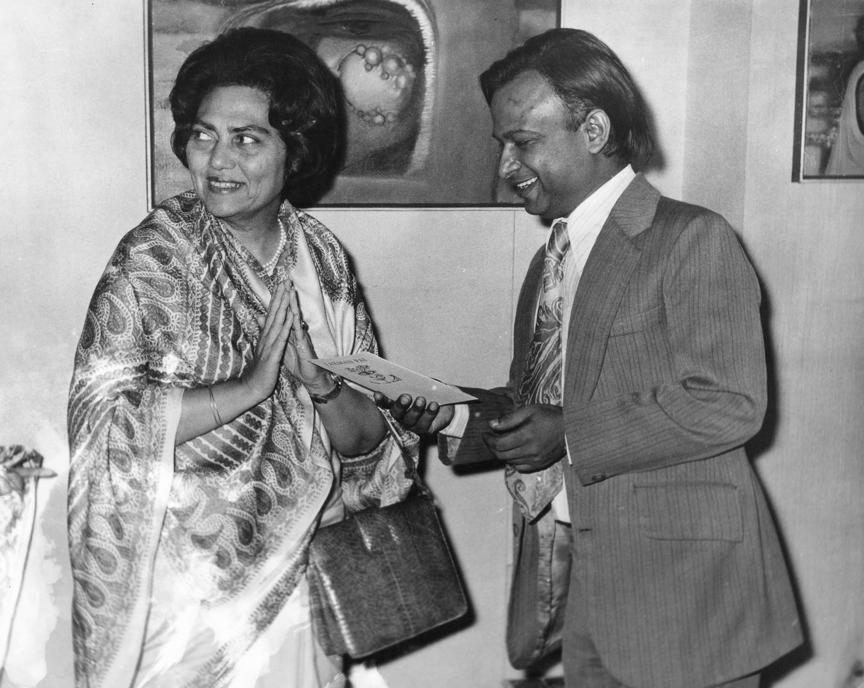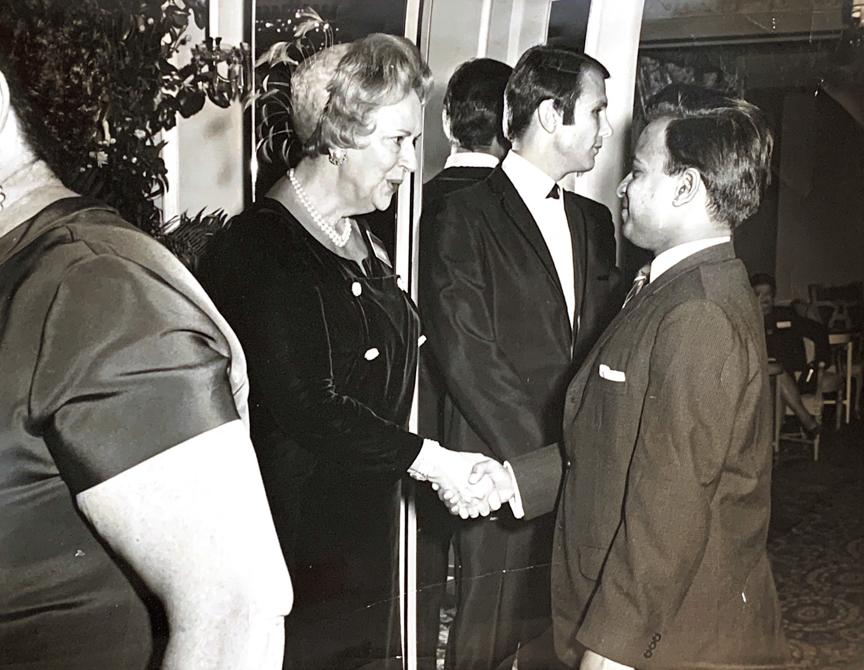 Virendra was joined by his brothers Ravi and Pradeep in 1956, his sister Kamal in 1958, and Navin in 1963. Of the brothers, Pradeep had the greatest natural talent for business, combining a keen and decisive strategic sense with an affable personality suited for making visits to Kumar Gallery memorable. Given the dearth of domestic purchasing power for contemporary art, Pradeep's strategy focused on maximizing visibility to well-heeled foreigners visiting India. The Ashoka Hotel, being Delhi's only 5-star hotel when it was constructed in 1956, was the obvious hotel of choice for foreign visitors to India. Pradeep seized the opportunity, opening the second branch of Kumar Gallery in the Ashoka Hotel in 1958. By 1960, Kumar Gallery further expanded to the Grand Hotel (now known as the Oberoi Grand) on Chowringhee Road, Kolkata. The strategy was an unqualified success, and critical to the Gallery's capacity to provide its generous support to its large roster of soon-to-become modern masters.
Foreign visitors throughout the 1950s and 60s recall their meetings with one of the young Kumar Brothers as the quintessentially magical moments of their trips to India. In a country that seemed so economically backwards, the last thing they expected to find was a contemporary art gallery with a bespoke suited young man, elaborating in fluent English upon India's ancient philosophical traditions while excitedly extolling the radical innovation of India's contemporary artists. Just the idea alone of the Gallery had great impact, as exemplified by the reaction of none other than Pablo Picasso, who Virendra met in Paris in 1960. With incredulousness, exclaiming 'of all places, a gallery in India for contemporary artists', he gifted Virendra some serigraphs to support the gallery. Those works by Picasso would have been hanging alongside Husain, Ram Kumar, and Gaitonde amongst others that year, had they not been confiscated by Indian customs.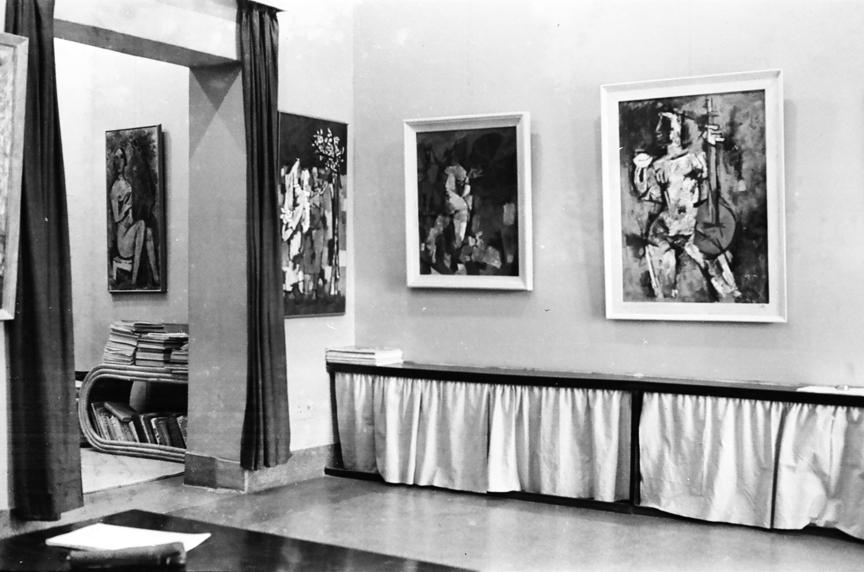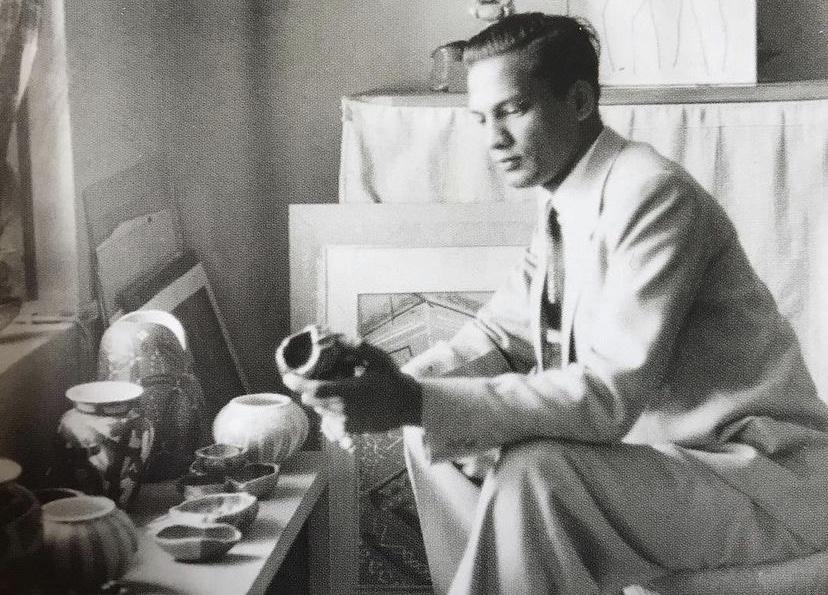 Virendra understood that Indian art could not grow in domestic isolation. One avenue for exposure was international exhibitions. Virendra was quick to identify visitors who could host exhibitions, offering them a willing ally in organizing shows contemporary Indian artists outside of India. Early on in 1957, Virendra secured a group show at the New York Public Library. From that venue, Virendra realized that his artists could benefit from reading the latest books and exhibition catalogs of Western Contemporaries. Thus, soon after the gallery re-located its primary branch to the diplomatic enclave, Sundar Nagar, in 1958, it featured a library that many artists took full advantage – though as one can imagine the library dwindled by the early 60s, for once borrowed, never returned.
The year 1959 was a landmark year for foreign exhibitions on Indian art. In 1958, Dr. K. Hunthausen, from Burkhardt and Company, in Essen, Germany visited the gallery. Coincidentally, he was involved with Villa Hugel, an organization in Essen that was putting on 5000 years of Indian Art in 1959. For Virendra, such an important exhibition could only be comprehensive if it represented works by contemporary artists as well. Dr. Hunthausen was so thoroughly convinced of Virendra's point of view that the show was extended to have a complete second section with 40 works of art by 15 contemporary artists. Over a period of eight months, the entire show traveled to Museum Fokwang in Essen, the Stadtische Kunsthalle in Recklinghausen, the Ostwall Museum in Dortmund, and Zurich Galerie Palette in Zurich.
The second major show that took place in 1959 was an exhibit of 20 works by eight artists, Trends in Contemporary Indian Artheld at Graham Gallery, New York, and organized by George Butcher. George Butcher had gotten to know many artists during his time in India in the mid-60s, (which included a visit to Kumar Gallery on 22nd Jan 1963). However, in 1959, he was only well acquainted with the two of the eight artists who were in Europe at the time, F. N. Souza and S. H. Raza. The other six artists were in India, with four under exclusive contract with Kumar Gallery. Naturally, Virendra graciously agreed to facilitate the exhibition, arranging for works not only of his own artists, but of Bombay based Akbar Padamsee and Mohan Samant as well (who came to the gallery together on Dec 25, 1958 to finalize arrangements for the show). Virendra also introduced and arranged for works in the collections of his American clients Mr. and Mrs. John D. Rockefeller, Mr. and Mrs. Guyer, and Mr. Roman, to be loaned for the exhibition. Coincidentally, on February 18, 1959, coinciding with the February 10 – 26 showing of Trends, Mrs. Rockefeller visited the gallery for the second consecutive year, this time instead of her husband, accompanied by Douglas Overton, director of Japan Society. The following day, the future Prime Minister of UK, James Callaghan visited. Mr. and Mrs. John D. Rockefeller eventually went on to set up the JDR 3rdFund (1962-1979) that provided grants to Indian artists to travel to the West.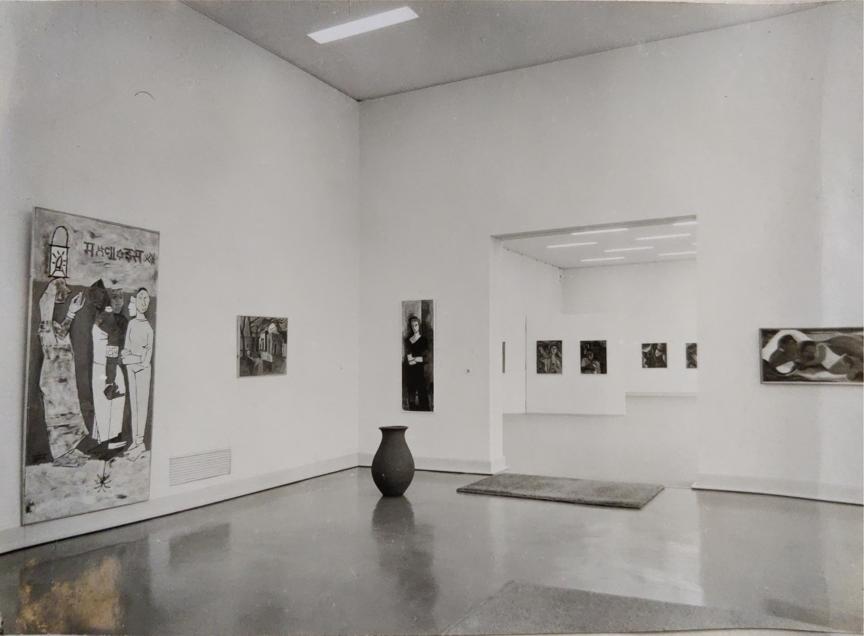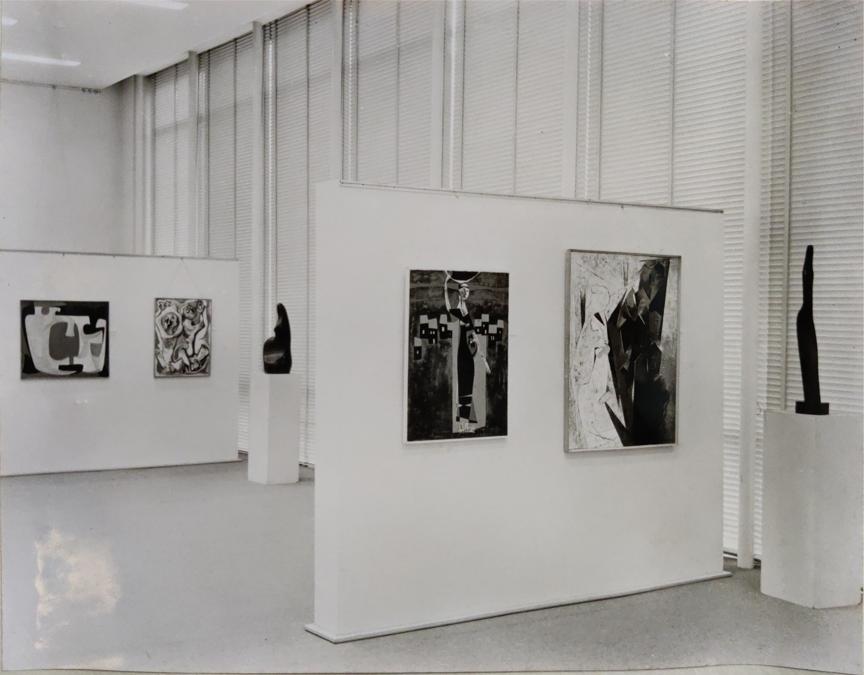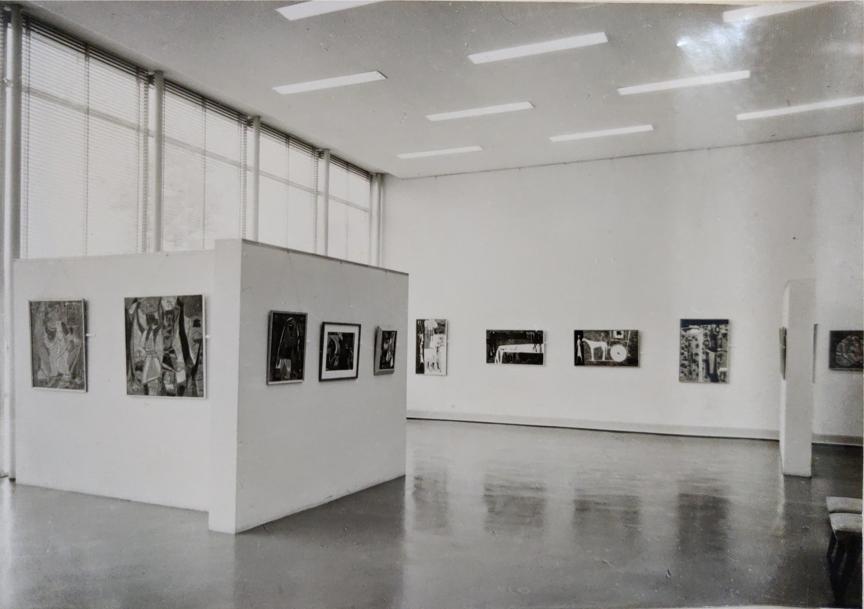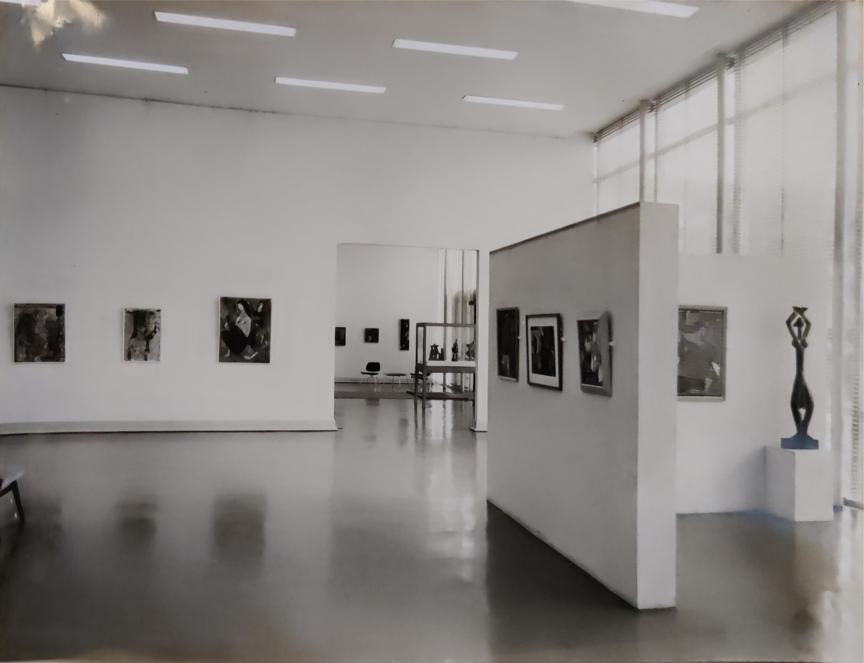 Of note was yet another show in September 1965, Ten Contemporary Painters of India, held principally at the Massachusetts Institute of Technology at the behest of its President Julius Stratton and his wife Kay. The show featured F. N. Souza, M. F. Husain, Krishen Khanna, K. S. Kulkarni, V. S. Gaitonde, Tyeb Mehta, G.R. Santosh, Satish Gujral and A. Ramachandran. The show traveled to other universities along the East Coast, including Rutgers in Trenton, New Jersey, until January 1966. Mrs. Stratton purchased Woman Resting by A. Ramachandran, Shimmering Valley and Melting Snows by G. R. Santosh, and Bull by Sultan Ali, while one of MIT's major donors, Eugene McDermott (co-founder of Texas Instruments) purchased Elephant Procession. Other famous scientists to visit the gallery in this time included Nobel Laureate James Watson (who visited on Aug 28, 1961), the physicist Prof. Earnest C. Watson at Caltech (who was a regular client throughout the early 60s), the legendary hematologist Dr. Clement Finch, and the future President of MIT, Jerome B. Weisner.
A similar show was sent for exhibition to Bonython Gallery in Australia that same year. In addition to these group shows, Virendra also organized a number of one-man shows, including a show of the contracted gallery artist V. S. Gaitonde in 1959 at Graham Gallery, of M. F. Husain at Frankfurter Kunstkabinett in Germany with Hanna Bekker vom Rath in 1960, of G. R. Santosh at Gallery Mayer, New York in 1962 and Galerie Revel, New York in 1964, and of Ram Kumar at Galerie Revel in 1964.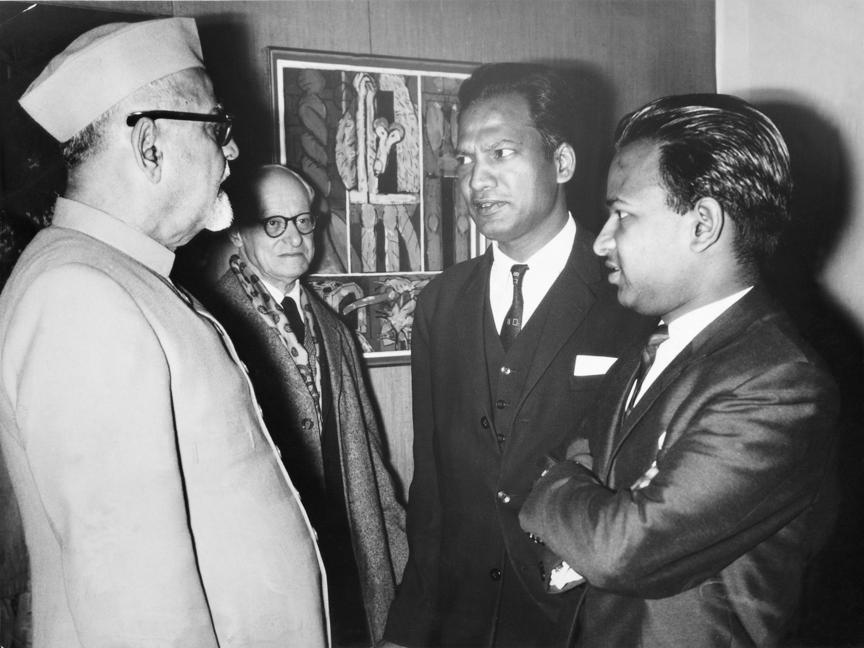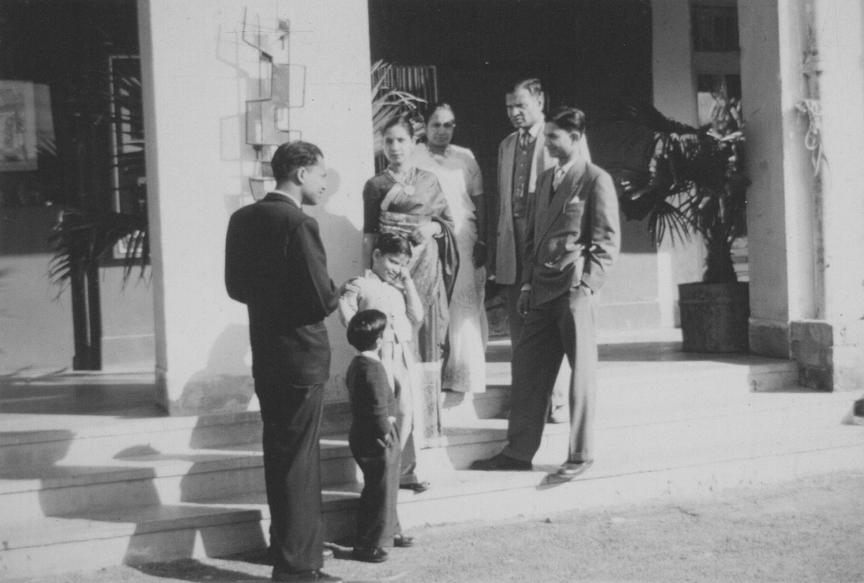 At the time the gallery was founded, figurative art predominated the arts scene in India. Strictly within this genre, the gallery held numerous one-man shows of figurative painters Husain ('55, '57, '58, '59, '60, '61), F. N. Souza ('62, '63, '65), Tyeb Mehta ('65, '67), Krishen Khanna ('58, '59, '60, '64, '66), K. S. Kulkarni ('56, '57, '59, '61, '62, '63, '64, '65, '72), A. Ramachandran ('66, '68, '69, '70, '73, '75, '77), N. S. Bendre ('61), B. Prabha (' 58, '59, '60, '63), Sultan Ali ('64, '65, '66, '67, '69), Jatin Das ('68), and regularly represented others such as Bhupen Khakar, Laxma Goud, Mrinalini Mukerjee, Vivan Sundaram, Gulam Mohammed Sheikh, Gieve Patel, Gopal Ghose, Almelkar, Jamini Roy, Sailoz Mookherjea, and K. H. Ara in group shows.
Yet at the outset, Virendra clearly indicated a preference for innovation, holding exhibitions as early as 1958 of printmaking and graphics by Krishna Reddy and a show of ceramics by female artist Devayani Krishna. In the same year, Virendra Kumar contracted V. S. Gaitonde and Ram Kumar, clearly recognizing their inclinations towards abstraction. By the next year, the gallery held one-man shows of both artists, featuring V. S. Gaitonde's first purely non-objective paintings, as well as the first non-figurative showing of Ram Kumar's works. This was the beginnings of the first phase of Indian abstraction, of which the gallery was the prime patron with shows of V. S. Gaitonde ('59, '60), Ram Kumar ('59, '60, '61, '63, '70), Biren De ('58, '61, '64, '67), G. R. Santosh ('58, '59, '61, '63, '66, '67), Shanti Dave, and Satish Gujral. The depth and breadth of Kumar Gallery's support for abstraction was exemplified by their comprehensive survey exhibition, Fourteen Leading Abstractionists in 1963, which featured experimental abstract works by many figurative painters as well. Coincidentally, Harry Abrams, the well-known publisher of the book Husain on India's leading figurative painter, was introduced to contemporary Indian art on March 13, 1962, during an exhibition of Shanti Dave's latest abstract paintings. He left that day with an earlier figurative Shanti Dave, Husain, and Ram Kumar, and went to Calcutta on March 21, 1962 to visit the Kumar Gallery branch at the Grand Hotel in Calcutta. During his time in New Delhi, Virendra introduced Abrams to both Husain and Ram Kumar during his time in Delhi.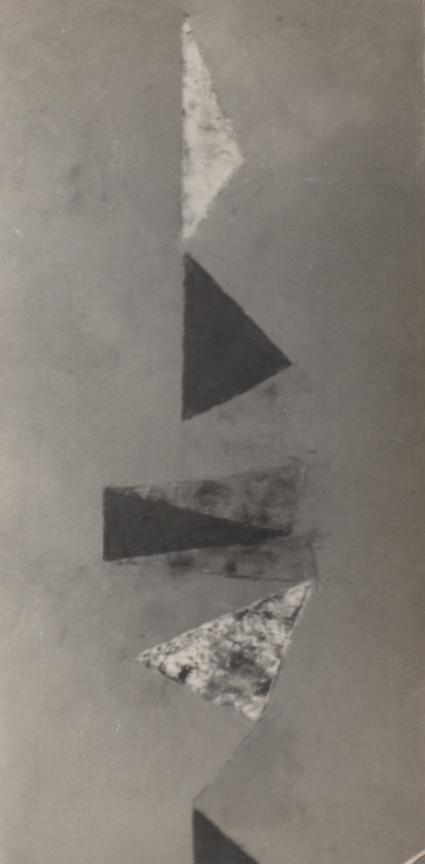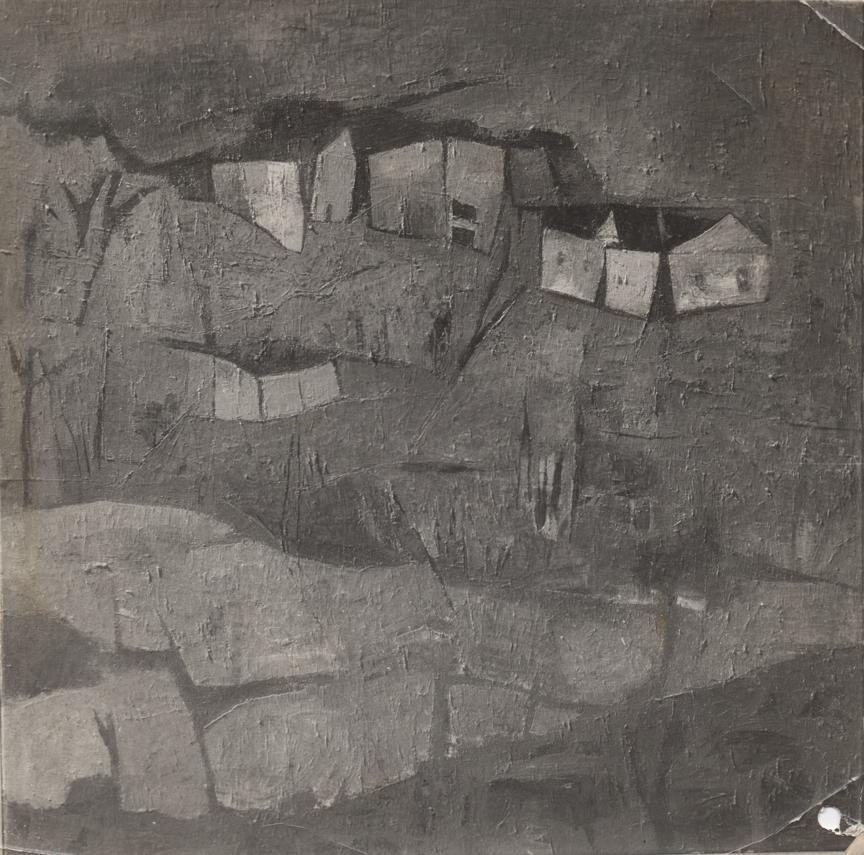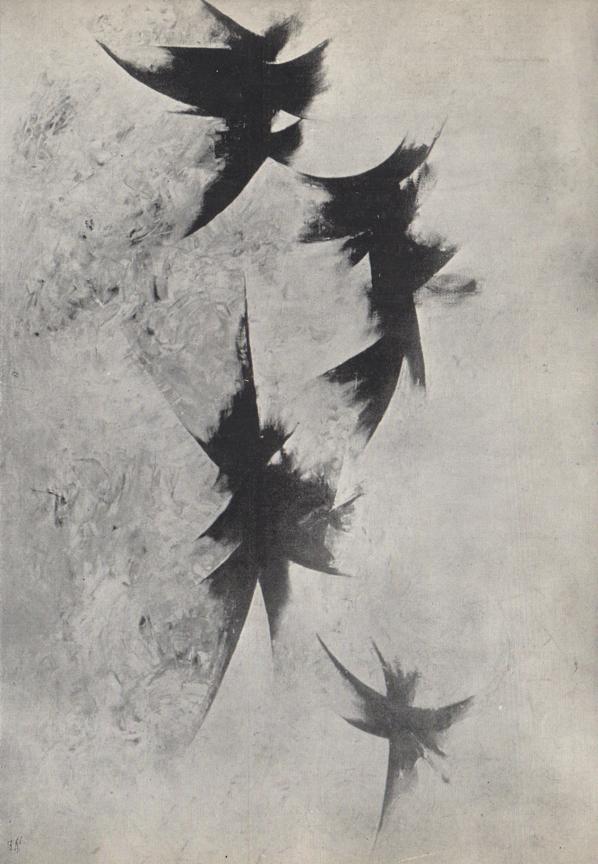 Virendra also understood that a domestic market for contemporary art could only develop in India if young individuals had the opportunity to see contemporary artists in national institutions. The most important art institution was the National Gallery of Modern Art (NGMA), inaugurated in 1954, and whose initial collections focused on artists such as artists such as Jamini Roy, Tagores, Amrita Sher-Gil. To this end, Virendra agreed – at the request of the Director of the NGMA, Pradosh Dasgupta – to recommend and sell works by contemporary masters at reduced prices. It was an arrangement continued through the tenure of the next Director, Dr. Laxmi Prasad Sihare (1971 –1984). The works acquired by the NGMA included masterpieces by F.N. Souza, M.F. Husain, Tyeb Mehta, Bhupen Khakkar, A. Ramachandran, Satish Gujral, Biren De, Almelkar, Sailoz Mookherjea, Gopal Ghose, Jamini Roy, Om Prakash, Laxman Pai, G.M. Sheikh, Vivan Sundaram, DLN Reddy, Gieve Patel, amongst others.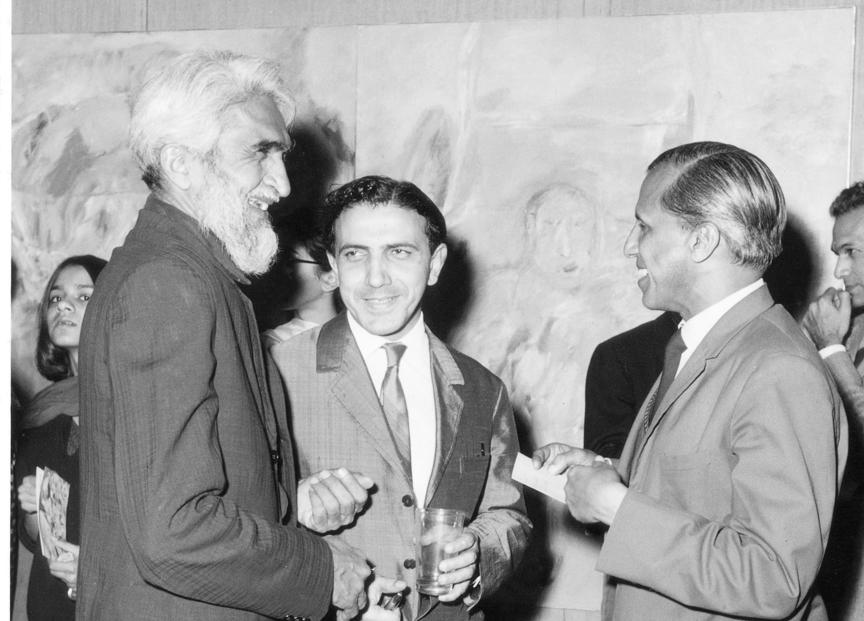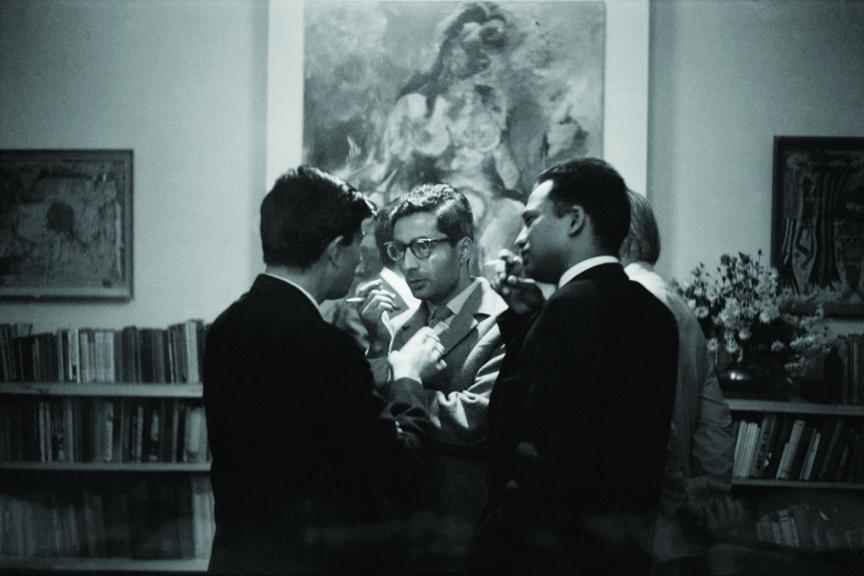 The second turn towards abstraction in India – the turn towards Neo-Tantra – was also incubated at Kumar Gallery. A turning point for Virendra in this movement was a memorable conversation he had was with none other than Aldous Huxley, author of Perennial Philosophy and A Brave New World, who came to the Gallery in 1961. From Huxley, Virendra learned that many early abstractionists including Hilma Af Klint, Kasimir Malevich, Vassily Kandinsky, Paul Klee, and Piet Mondrian had became profoundly interested in India's philosophy through the Theosophist society and its India-inspired philosophy. Virendra began to see an evolution towards a spiritual geometric visual vocabulary inspired by India's philosophical traditions as becoming an inevitable component of Indian abstraction. Huxley, who was friends with Jiddu Krishnamurti, was surprised that Virendra was familiar with Krishnamurti's philosophy through his 1956 book Conversations on Living (a book which he lent to Gaitonde in 1959). That coincidence broke the ice. Virendra and Aldous Huxley went on to share a deep, long, and nuanced comparative analysis of Indian aesthetics and metaphysical traditions. The writer left the gallery having purchased a work by G. R. Santosh.
The first contemporary Indian artist that emerged with significant Tantric themes in his work was Biren De. His mid-1964 one-man show at the gallery featured paintings such as Purusha and Prakriti, Deity I & Deity II, Genesis I and II,Inscription, Promise, and OM – all titles with overt indications as to the origins of Biren De's inspiration. Artists Laxman Pai ('66), G. R. Santosh ('67), Om Prakash ('67), Prafulla Mohanti ('69), Haridasan ('70) soon followed in adopting Neo-Tantric styles in exhibits of works with Tantric symbolism at Kumar Gallery. It was only until 1973 and the mid-70's respectively that the most iconic Neo-Tantric artists, Denmark-based Sohan Qadri and France-based S. H. Raza began to explicitly use Tantric vocabularies in their work.
The overwhelming interest in India's spiritual traditions can be seen as being a consequence of the international community seeking to find deeper spirit and meaning after the ravages of the Second World War. By 1971, just as India's own domestic art market started to provide a modicum of support for contemporary artists, international demand for Tantric Art far overshadowed that for Modern Indian art. Yet, by no means was the connection between Indian philosophy and Tantric art an inevitable historical occurrence. Amongst the defining moments of the interest in Tantric Art that blossomed from the late 1960s onwards was the 1966 publication Tantra Art in Physics and Philosophy and 1971 sequel Tantra Asana. The books were written by Ajit Mookherjea and published by Ravi Kumar and Kumar Gallery. They also sold out internationally, captured the imagination of a general public, and were massively influential amongst artists (such as Jasper Johns and Robert Rauschenberg), writers, and philosophers. From the book, neophyte (pre-digital age) influencers of Tantra caught hold of Kundalini yoga, recognizing that the generation of the 60s and 70s was very well primed for the idea of enlightenment through sex, and sex through Kundalini yoga.
The story of the Kumar family's engagement with Tantric art began in 1958-59. Virendra, upon hearing a rumor of a train of refugees arriving by train to Delhi, procured some food and rushed to the station. There he encountered HH 16th Karmapa Rangjung Rigpe Dorje, who performed the Black Hat ritual upon his arrival in the capital of India. Virendra and the 16th Karmapa formed an instant connection and remained lifelong friends. Though he had already been familiar with Tantric elements in Jain paintings, this encounter served to kindle his interest. Not long thereafter, Virendra met Ajit Mookherjea at the gallery on November 22, 1959. It was an uneventful meeting. When Virendra met him again, this time in New York in 1964, he discovered Ajit was shopping around a manuscript on Tantric philosophy, with little traction in the publishing community in India or the United States. Virendra, however, was fascinated by the proposition. He insisted that the book should primarily be a book on art – Tantric Art. The images could directly convey the essence in a way that text could not. Work revising the book for this new format began upon their return to Delhi. Ravi had left India in 1958, moving first to London and New York, and then later to Paris. However, at that precise time, he happened to be visiting India, and – excited by the project's potential – joined the efforts to publish the book in a major way. Tantra Art in Physics and Philosophy was finally published by Ravi Kumar and Kumar Gallery in 1966. For Ravi, Tantra Art and Tantra Asana also marked the beginnings of a publishing career that saw Ravi knighted by the French Government five decades later.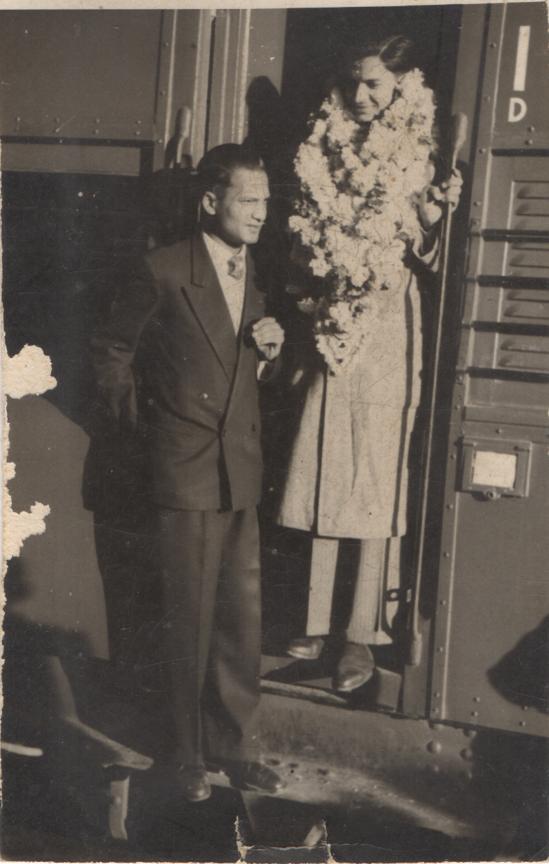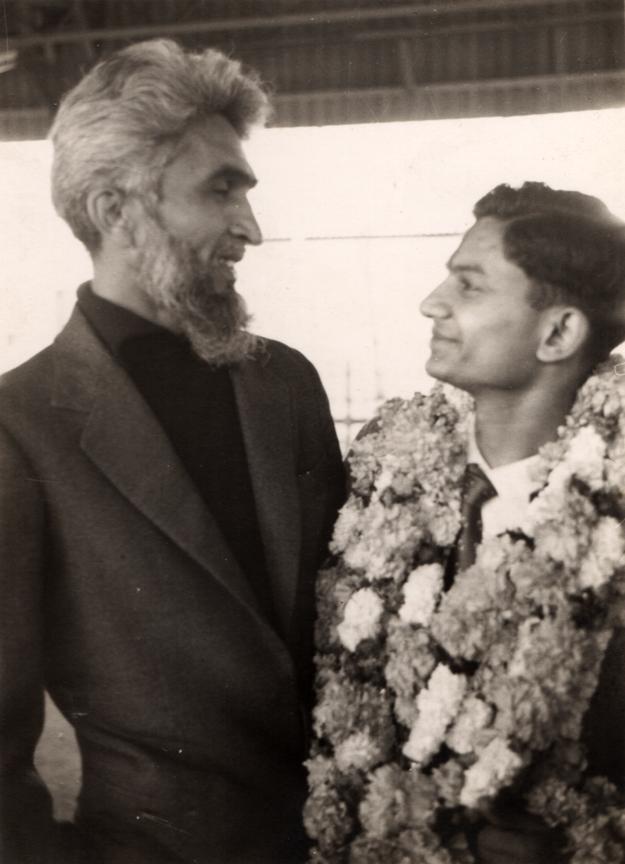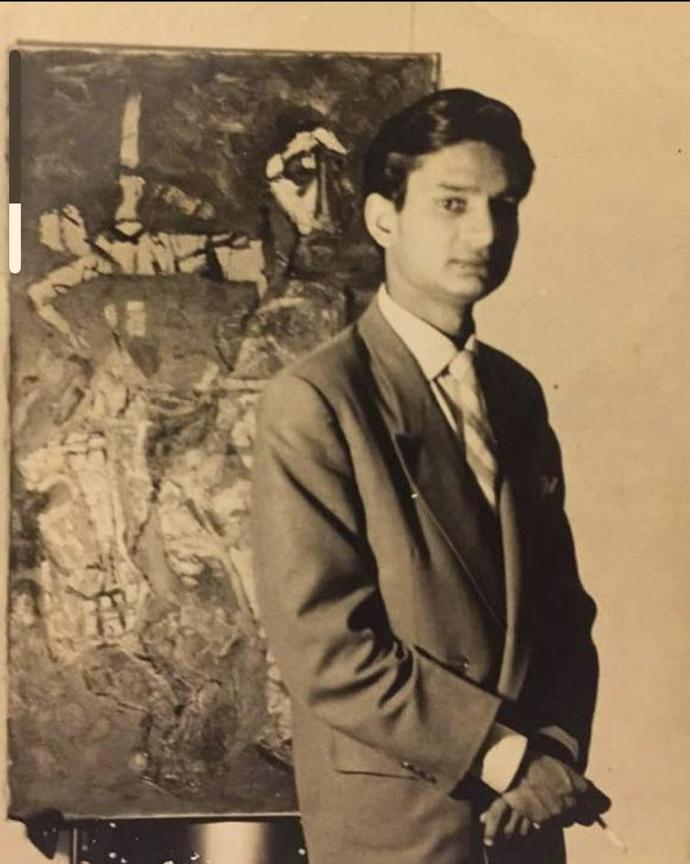 Between 1969 to 1971, Virendra published and edited a total of 21 books, across subjects of culture, religion, history, and philosophy. He was instrumental in organizing the first International Yoga conference in Delhi in 1970, and some of the conference proceedings were published in the quarterly magazine CHAKRA, a journal of Scientific Yoga, which he co-founded with Christopher Hill and Ajit Mookerjee. Concurrently, Virendra also founded the Manjushri Publishing House in association with H. K. Kuloy. In 1972 Manjushri Publishing House launched 'Bibliotheca Himalayica' with the purpose to make available works on the civilizations and cultures of central Asia and Himalayas. Indeed, by this time, Virendra had gained repute for his unique insight of philosophy that spanned philosophical traditions, and stature as a leading patron of art, culture, and history. So much so that he was invited to, and attended, the coronation of the King of Bhutan, Jigme Singye Wangchuk in 1974. Throughout the decades, he continued receiving teachings and empowerments from HH Dilgo Khyentse. And in his final two decades studied Sanskrit and Advaita Vedanta with great diligence alongside Prabhuddhananda Saraswati at the Ramana Maharishi Kendra.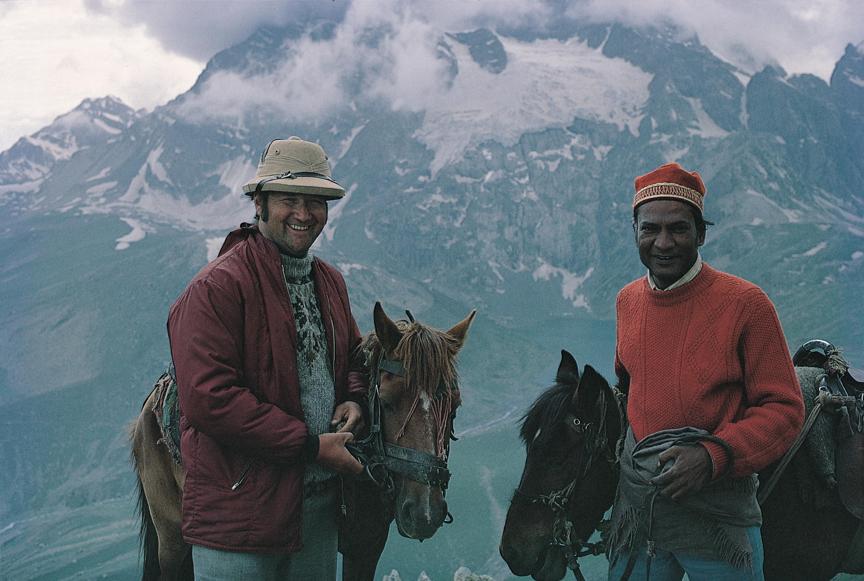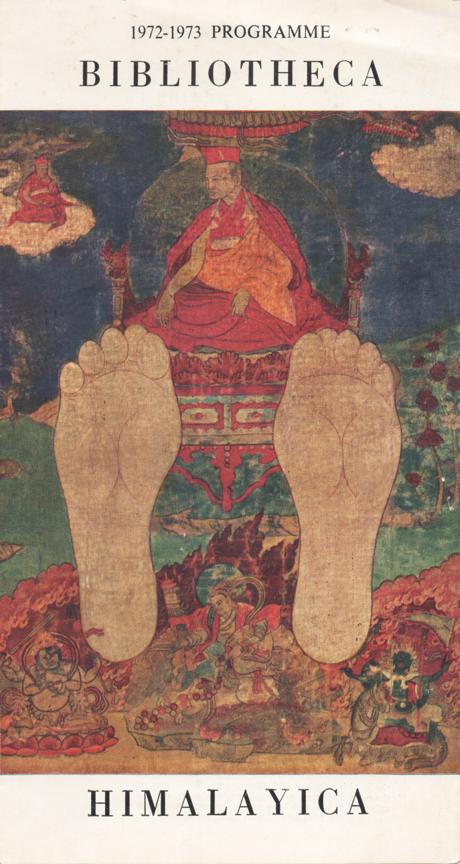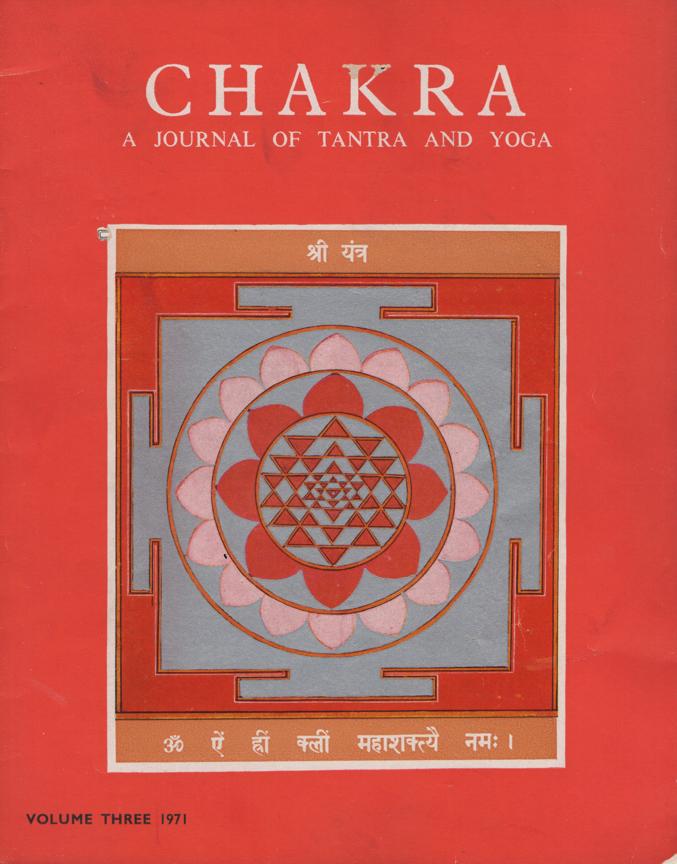 Virendra and Ravi's publishing efforts were complimented by commensurate commercial efforts from the rest of the brothers. In 1965, Pradeep came up with the idea of popularizing Tibetan and Tantric Art through affordable posters of thangkas (Tibetan paintings) and Tantric greeting cards. Over the next couple of years, he developed an international retail network through which millions of copies of each were sold. During this time, Pradeep left for his first world tour in 1967, spending six months abroad, hosted by the numerous friends he had made at the Gallery. In February 1970, Ravi facilitated one of the first landmark exhibitions of Tantric art in the West, at Le Point Cardinal, Paris. Contributing to the catalog and exhibition was Octavio Paz, who was close friends with Virendra after visiting the gallery for Souza's one-man show on October 14, 1962 shortly after being named the Ambassador to India that year. That show was followed up by three other major shows of Tantra Art organized by Pradeep in Italy, including at Mario Tazolli, Milan in Oct-Nov 1972, at Fabio Sargentini's Rome gallery L'Attico in May-Jun 1973, and at Galleria del Naviglio, Milan in Oct-Nov 1973. The show at L'Attico was particularly special in that Pradeep arranged for a performance by legendary Rudra Veena master Ustad Asad Ali Khan for the opening party. Around the same time, Tantra Art was introduced to the United States by Navin. He had first moved to Europe in 1968, before settling in Los Angeles in 1971 and New York in 1974. Navin arranged for a show of Tantric Art at Benson Gallery, Long Island in May 1971, and at Esther Robles gallery in Los Angeles in June 1972. A common thread to all these exhibitions is that they were held at contemporary, avant-garde galleries. Clearly, the topic was of interest not to some cultural elite who collected old works of art, but to a broad swath of society. Collectively, these publications, posters and cards, and major avant-garde exhibitions created an international movement on Tantra Art. All told, it can be said that the substantial deepening in the West's interest in Tantric art, both from India and Tibet, was in no small part the result of coordinated efforts by the Kumar brothers.
Contemporary and Tantric art were not the only aspect of Indian culture that Virendra patronized. He was also deeply interested in the spiritual nature of sound, dance, and ritual. From 1963-65, Virendra Kumar practiced transcendental meditation – a chant-based meditation tradition – under Maharishi Mahesh Yogi. He engaged further in Siddha Yoga, receiving darshan and teachings from Swami Muktananda (disciple of Swami Nityananda) at Delhi in 1970, and became lifelong friends with Gurumai Chidvilasnanda (disciple of Swami Muktananda). In 1963 he also started to promote the masters of Indian classical music, particularly Padma Bhusan Fahimuddin Dagar (vocal), Padma Bhushan Asad Ali Khan (Veena), and Dagar Brothers. He not only organized many concerts for them, but also went on produce the film, DHRUPAD on the Dagar brothers in 1973. The following year, he produced GAR CHAM the first film to ever document the 'Lama Dances of Tibet', inspired by this theme by having personally witnessed the black hat dance of the 16th Karmapa.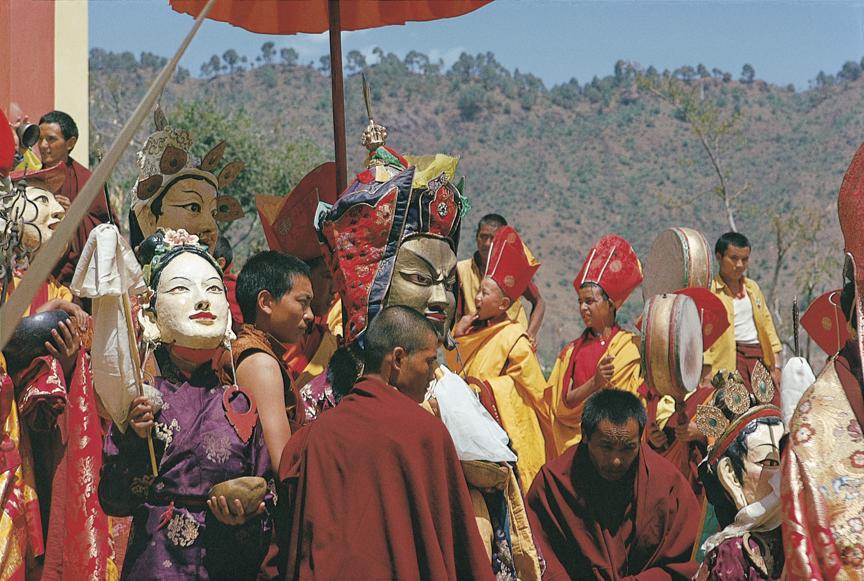 In the 1990s, the gallery held a number of comprehensive exhibitions, including a Six Modern Masters (1997, M.F. Husain, F.N. Souza, Tyeb Mehta, Krishen Khanna, Ram Kumar, Satish Gujral), Spirit of a Century (2004), their Golden Jubilee Spirit Set Free in 2005, and the Celebration series of shows that included their 2015 Platinum Jubilee. Furthermore, Kumar Gallery held major retrospectives on leading modernists, including Retrospective I,II, III of F. N. Souza (1999, 2000, 2001), K. S. Kulkarni (2007), Prodosh Das Gupta (2008), Sohan Qadri (2011), Gopal Ghose (2014), amongst others. Kumar Gallery also published a monumental publication on the Art of the Three Tagores, which dealt with the revival of the visual arts in India that was initiated at the beginning of the 20th century. The book was released to coincide with the 150-year birth anniversary of Rabindranath Tagore.
In many ways, known and unknown, the shape of what we now understand as Modern Indian Art was shaped by the efforts of Virendra Kumar and his brothers at Kumar Gallery. Their contributions as promoters and tastemakers came precisely at the hour of need for the first generation of contemporary artists in independent India's. Virendra's comprehensive patronage and unwavering belief that Indian artists could compete with their Western contemporaries was the quintessential catalyst that manifested the latent potential of India's nascent artistic ecosystem. In recognition of the role that Virendra Kumar played, and in appreciation of his sincerity and resolve, M.F. Husain, termed him, 'The Kahnweiller of Indian Contemporary Art.'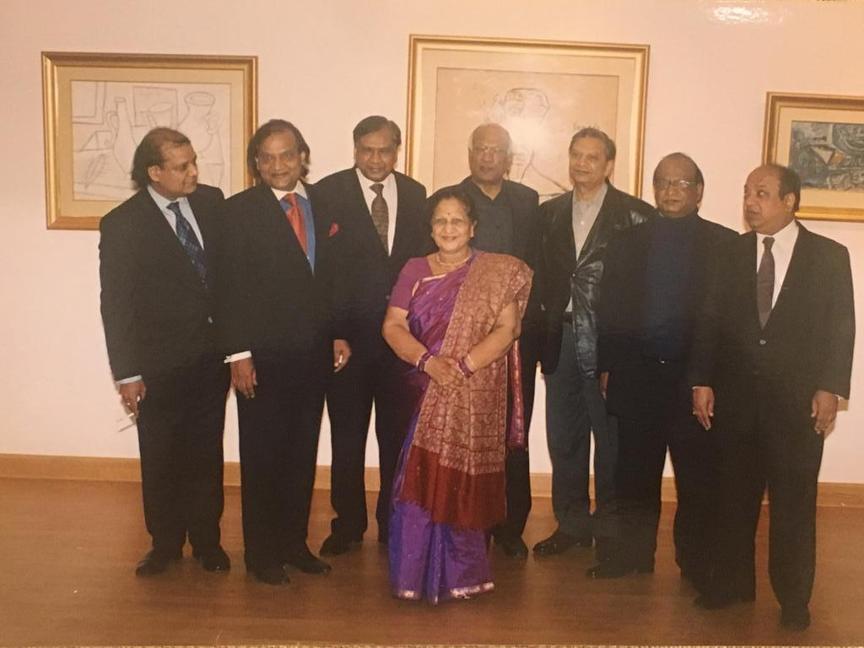 Tarun Kumar Jain January 2022